Mission
Jesus said that we should love others as we love ourselves. We at Faith United take that command seriously.
Below are just some of the missions we undertake to serve God and the community....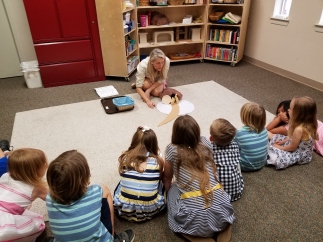 Good Shepherd Class
Meets every Sunday at 11 a.m. after the "Time for Children" with Pastor Jim. This class provides Worship and Christian Education for children ages 3 to 5 years. The program stems from the
God's Play
program. Children are interested in God and their faith can be formed as they are invited into the Old and New Testament stories and parables. The storytelling method is visual, oral and kinesthetic. The program introduces to children and helps them get ready for Christian worship by gathering, listening, thanking and going, which mirrors the order of congregational worship. Children get to experience God through this program in biblical stories, parables, playing with story materials and reflecting art. We find the children are excited to attend and to relay the stories in their own way back to their parents.
Following Jesus Class
Meets every Sunday at 11 a.m. after the "Time for Children" with Pastor Jim. This class provides Worship and Christian Education for children ages 6 to 9 years. The program stems from the
God's Play
program and is an extension of the Good Shepherd Program. The Following Jesus storytelling method is visual, oral and kinesthetic and focuses on the New Testament stories and parables. The program provides a way for children to follow Jesus through biblical stories, which show who Jesus is, what he is teaching about the kingdom of God, why Jesus is calling people to follow him and what he is sending them into the world to say and do. Children love stories. When the biblical stories and parables come to life, children are full of wonder, awe and amazement. This is the way people responded around Jesus when he told a story or performed a miracle.
In both programs we look to create an environment where children can have their own faith and to know God, not just learn about God.
Church Contacts: Brenda Burkham and Katie Miller
North Dallas Shared Ministries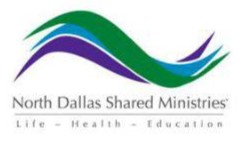 Location:
2875 Merrell Road
Dallas, Texas 75229
214-358-8700
www.ndsm.org
We have been involved with NDSM from its outset in 1983– in fact many of the early discussions for setting it up took place with several other congregations in our Fellowship Hall. There are now 50 covenant congregations. NDSM covers 20 Dallas zip codes, from just north of downtown to far north Dallas (75287) and I 35 to the area around Presbyterian Hospital.
NDSM serves the working poor through rental and utility assistance, food, clothing, job counseling, ESL classes, income tax preparation, glasses and medical and dental care. NDSM served over 62,000 clients in 2010 with $2,909,041 in aid. Each August, two school uniforms and grade related school supplies are provided to approximately 2600 students. NDSM also has a Friday FoodBasket, which is open to seniors and the disabled on fixed incomes from any where in the Dallas area: each week, a prepackaged bag of groceries, eggs and milk are available to them.
What makes NDSM so special is their reliance on volunteers – even the Executive Director is a volunteer. There are 2.5 paid workers, an administrative assistant (whose salary is covered by the Junior League of Dallas) and a part-time medical director (physician) and a medical assistant. Volunteers gave 47,507 hours, 80% of which came from members of covenant congregations. Our church members provide over 1000 volunteer hours each year.
NDSM partners with many other organizations. Each summer, a college intern develops a booklet listing where to turn for help in the different zip codes. This is distributed to hospitals, other agencies and churches at no cost to them.
For more information on NDSM go to the website
ndsm.org
Church Contact:
Lois Duell
Medical Resources


Church Contact: Dottie Cogar, R.N.

Metrocrest Services

Location:
Metrocrest Social Services
13801 Hutton Street # 150
Farmers Branch, TX. 75234
972-446-2100
MSS' goal is to prevent homelessness by providing help to people who have a crisis that changed their life.
Sometimes it is an illness or loss of work or an automobile that needs repair - or one of numerous other problems.
They help children with back to school supplies and shoes.
They offer food to those who qualify.
At Christmas they give families vouchers to"shop"at their donated gift store.
Call to see if they service your zip code.
If you are interested in more information please visit their web site:
www.metrocrestsocialservices.org
Military Project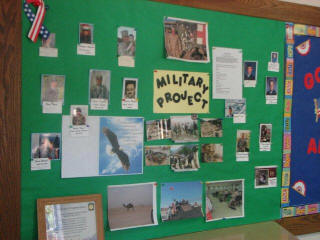 We remember those service men and women away from home and family. For over five years, once a month we would gather to send a special packages to each of them. We included cookies, candies, snacks and books.
We praise the Lord that all of the FUPC men and women have returned home to their families and friends. We have removed the pictures and posts from the bulletin board and are currently working on a scrap book so we will always remember this time in their lives.
Stephen Ministers

Faith United has a Stephen Minister program. Stephen Ministry is a one-on-one Christian care ministry. A Stephen Minister is a man or woman who is trained to listen to and care for another person. The training involves 50 hours of learning how to care for people going through the crises of life, such as, job loss, grief over the loss of loved ones, the difficulties of illness and hospitalization, nursing home issues, divorce, pregnancy, suicide, and much more. The Stephen Minister is the Care Giver, God is the Cure Giver. The person being ministered to is the Care Receiver.

After being trained, the Stephen Ministers meet twice a month for Supervision and continuing education. Confidentiality is stressed through the entire process. Christian Care Giving and Teaching the Truth in Love (assertiveness) are two books that are read and discussed during the training. Anyone in the congregation or outside can request to have a Stephen Minister walk with him/her through a crisis. The Stephen Leaders will assign a trained Stephen Minister to care for the person; they will meet once a week for an hour each time until the crisis has passed.

Faith United now has two Stephen Leaders. For more information about the program, call the church 972-243-2866 and one of the Stephen Leaders will return the call.

Stephen Ministry is a program based in St. Louis, Missouri. It began in a Lutheran Church in 1975 by Dr. Kenneth Haugk and is now in many, many denominations all over the United States and around the world. It is now in more that 11,000 congregations; over 500,000 people have been trained to be Stephen Ministers.
Starboard Stitchers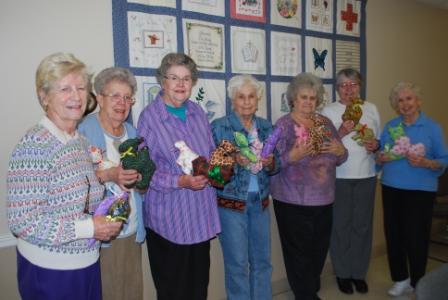 The Stitchers met monthly for over 25 years beginning in the early 1990's through 2017. The group (pictured above) was featured in the Dallas Morning News in 2014. (photo credit: Caitlin Harrison, Dallas Morning News)
Through the years they worked on individual projects and projects for the church. They raised funds for purchases such as the American and Christian flags in the Sanctuary, the wooden bench and chair in the foyer by the church office, items for the kitchen (church life) and painting and freshening of the Sanctuary. Their longest running project has been the making of small stuffed animals for the babies and toddlers that get their shots in the clinic at North Dallas Shared Ministries.
They will no longer meet on a monthly basis. You have the opportunity to help. They have placed patterns and items needed for finishing the animals in the credenza in the front of the Adult Sunday School room (Double Room #4). They encourage you to help by sewing or stuffing the items as they are much appreciated by the nurses and children. Pick up a pattern and just sew around the outside, leaving an opening for stuffing or pick up one of the sewn animals and stuff it - good to keep your hands busy while watching TV! Return finished animals to bottom of credenza and they'll be sure to get them down to the clinic. Lois Duell or Lorna Acker can help if you have any questions.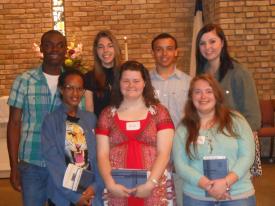 Presbyterian Childrens Home and Family Services

Their mission is to provide a variety of Christ-centered services to children in need and their families.

Our gifts of LOVE:

In 2009, the closest foster home at that time was in Itasca so we made and delivered fleece prayer blankets of various designs in 2010. The children got to choose their favorite to keep as their own.

In 2011, we made/purchased blankets and quilts for the children 3 years or younger. Most of these children arrive with only the clothes on their back. They were delivered to Foster Care in February 2012.

2012 - Present, Faith United and the Presbyterian Women group continue to support the Presbyterian Childrens Homes and Family Services (PCHAS), Waxahachie campus. Throughout each year they support the children at the Waxahachie campus by providing financial support.

Overeaters Anonymous

Faith United makes its facilities available for this worthwhile organization. Check calendar of events for meeting days/dates.
Gamblers Anonymous

Faith United makes its facilities available for this worthwhile organization. Check calendar of events for meeting days/dates.